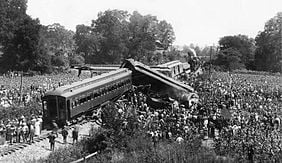 This week a deadly derailment occurred, in Philadelphia, as a speeding train jumped the tracks while making a very tight turn.
It brings to mind another deadly Philadelphia derailment, about a mile from the most-recent disaster, which occurred on Labor Day in 1943.
It also prompts a question:  What is America's deadliest train wreck? It happened during World War I, near Nashville. Within about three days, however, the story was essentially "out of the news."
Why did the press move-on, so quickly, to cover other things? You will be surprised, and saddened, by the most-likely answer.