$115 million in the first weekend, says Variety!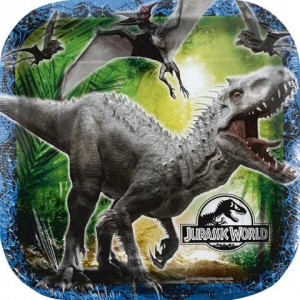 How many students can it engage in learning, wondering, thinking about the science, history, the future?
This is a great story to explore with your kids or young friends this summer, it starts like this:
"What do you do when you want to boost visitor attendance to your dinosaur-dominated, Jurassic World theme park? Use DNA, from four different dinosaurs, and "in the Hammond lab" create something entirely new and fearsome.  Then … give the new creature a name which signifies its awesome power: Indominus rex. At least … that's how the story theme works in the 2015 film "Jurassic World."  So … let's travel back in time, to the age of the dinosaurs, and meet the four interesting creatures whose DNA led to this new and ferocious predator:  Rugops; Carnotaurus; Giganotosaurus; and Majungasaurus."
Check out our AwesomeStories June Newsletter for clues and read the newest chapter "Jurassic World and Indominus-Rex" in our "Jurassic Park" multichapter story for lots of science, critical thinking, STEM and history exploration.
We are offering special summer and all year access to AwesomeStories GOLD, our premium story archive with apps including the amazing new "AwesomeStoryBuilder". You and your students or you and all your kids can research using our archive and more, build stories and publish them on our website.
AwesomeStories Special 2015 Family Offer ($59/yr for the entire family)
AwesomeStories Special 2015 Teacher Offer ($89/yr for you and all your students)
Enjoy the Summer!
The AwesomeStories Team