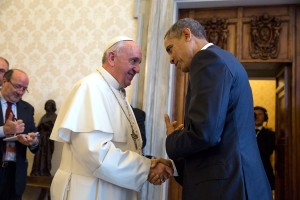 Pope Francis, born Jorge Bergoglio in Argentina is considered a very modern and progressive pope, as well as a more humble and approachable pope than those of the past. Francis is a pope of firsts, first Jesuit pope, first from the Americas and first from South America. Pope Francis has made fighting poverty one of his chief causes.
While maintaining traditional Catholic stances opposing contraception, abortion and homosexuality Francis's greatest principal is that of Jesus's teachings of mercy. Therefore, though he condemns certain practices as immoral he does not condemn the practitioners themselves, believing all beings to be deserving of love and compassion. Francis has also championed open dialogue with and acceptance of other faiths including Judaism, Islam,Protestantism, Atheism and has worked to mend the over 1000 year rift with Orthodox Christianity.
In an unusual precedent of diplomacy US President Barack Obama enlisted Pope Francis to aide in reopening relations with Cuba which he successfully shepherded to completion. Only two years into his papacy Pope Francis continues to surprise including his acknowledgement of and concern regarding climate change. His historic visit to the United States in September 2015 is sure to include new revelations on not just his stances but his whole manner and approach to interacting with all beings, not only Catholics.